Join The Cloud Computing Revolution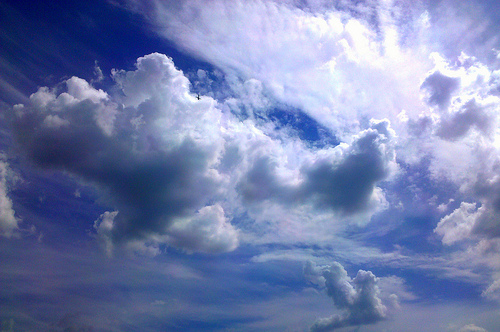 Is cloud computing a game-changing invention?
It's certainly altering the way the business world works these days, that's for sure. The benefits of using the Cloud are plentiful and offered a fantastic ROI to many businesses, as well as altering the way they carry out their operations forever.
The network has enabled employees to take a much more flexible approach to how they do their duties – allowing them to access their office remotely. This naturally gives staff much more freedom with regards to when their workloads are completed and helps them to achieve a better balance between their jobs and their home lives.
However, this plus point is just the tip of the iceberg and an increasing number of organizations are coming around to the fact that their future lies within the Cloud.
According to an IBM survey in 2013, the technology's strategic importance among decision makers like chief executives, chief marketing officers and HR directors is expected to double over the next three years from 34 per cent to 72 per cent – surpassing even their IT counterparts.
The study suggests that Cloud adoption is now getting to the point where its popularity is beginning to snowball, with the proportion of business leaders who are recognizing its potential continuing to expand.
Furthermore, one-fifth of companies are now ahead of the curve when it comes to implementing this latest trend, experiencing a competitive advantage as a results.
But what edge does this give them? Aside from the aforementioned flexibility factor, the Cloud can help firms to cut their costs and become more efficient in the way they run their operations in one fell swoop. With value for money being a key mantra for the majority of enterprises in modern business, this technology can offer them everything they want and more.
If more compelling arguments were needed, the Cloud – and companies like Canopy who provide it – can help propel businesses that are hoping to use the crest of a new wave of optimism in the economy to expand. It has never been easier to open offices in new locations – regardless of distance – without disrupting output, thanks to this network. Different departments can communicate in a much more effective manner, sharing information easily and enabling them to access the data they need to do a comprehensive job at the drop of a hat.
More to the point, ROI can be proven after the first Cloud migrations began in 2006, with the upshot being that it's much larger than experts initially predicted.
The study also identified three groups when it comes to Cloud adoption. The first are pacesetters – those who were already gaining an advantage over their competitors as a result of early adoption of the technology.
After the pacesetters are challengers – those who have already achieved better efficiency though the Cloud but are still lagging in certain areas for one reason or another.
Finally, there are the chasers. This group still hasn't fully embraced the network and, because of this, have yet to realize the advantages it can offer them.
Which group do you belong to? We know which one we'd rather be.